Soil Diva
All-Natural Biological Soil and Plant Stimulants
Beyond Fertilizer…The Next Step
Soil Diva liquid microbial-stimulant spray takes a fresh approach to improving the health of the plants you work hard to grow. It is easy and safe to apply…just spray it on! Soil Diva is made primarily of soil stimulants and natural enzyme complexes that target and increase beneficial soil bacteria, fungi and acetomyces populations. This type of change in the soil's ecosystem has huge positive effects on the growth, yield and beauty of plants because:
Soil becomes softened and mallow
Organic matter breaks down more efficiently
Nutrients within the soil are readily converted to plant-available forms
Root masses become larger
Water and air can be more effectively managed throughout the soil profile
Overall seedling vigor and germination is increased
All plant life becomes healthier, and has increased growth potential!
Finally, after 40 years of successful use on American farms,
Soil Diva technology is available for home use.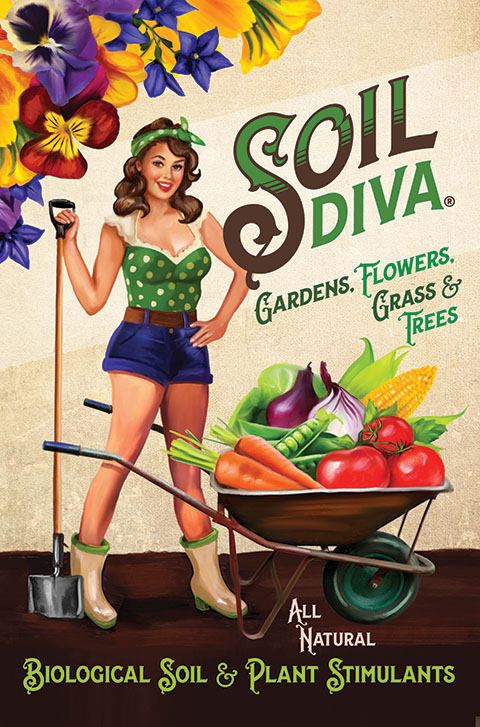 Soil Diva stimulates more than just the soil!
Soil Diva contains ALL- NATURAL plant stimulants, and kelp-seaweed extracts. These ingredients target plants themselves, delivering development stimulation, and stress relief. This component gives virtually immediate improvement to over-all growth and can help relieve stress from such things as: hail, light frost, transplanting and trimming.
Safe and Easy
Soil Diva is easy to use. Because this product is a natural biological complex, instead of a harsh chemical, it is safe for the soil and the people who use it. Soil Diva comes in a convenient Ready-to-Spray bottle or in a Concentrate form. To prepare concentrate, simply dilute 1/8 cup of Soil Diva with 1 quart water in a small garden hand sprayer. Spray Soil Diva on plants and soil every 1 to 2 weeks. Soil Diva is safe for the soil, for honey bees, for pets and for the people who use it.
Have Fun With It!
Soil Diva's unique combination of soil and plant stimulants provides an easy-to-use gardening tool that creates:
Beautiful Flowers • Bigger, Tastier Veggies • Healthier Grass, Trees and Shrubs
The folks at Soil Diva believe this is "The Soil Technology Mother Nature Prefers".
We hope you do too!